The Randolph Reporter: September 19, 2008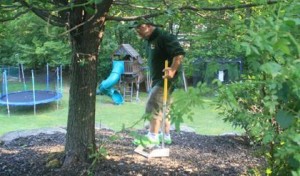 Scooper in hand, Kevin Mahoney scrutinized the dew-sopped lawn with the intensity of a pirate seeking buried treasure.
The 39-year-old Valley View Lane resident was looking for booty, but of a more, uh, ripe sort.
Mahoney is the owner of DoodyCalls, a pet waste disposal franchise whose employees boldly go where pet owners fear to tread, especially in bare feet: The back yard.